CIP Constructions were in attendance as LOGOS Property hosted the first SOD turning ceremony of their Broadmeadows Logistics Estate, in May 2021 breaking ground at the future home of a $230m LOGOS redevelopment, which once complete will support e-commerce, distribution, food, and cold storage.
LOGOS acquired the former Woolworths distribution facility in 2020 and is transforming the 25- hectare Estate, developing more than 120,000sqm of warehousing space, with lots ranging from 6,000- 50,000 sqm for use. Once complete, the estate will offer access to key transport links across Melbourne, including the Hume Highway interchange and planned North East Link, as well as the Tullamarine Freeway.
CIP Constructions are proud to have been awarded the first construction facility of the Broadmeadows Estate, a 12,630 sqm, distribution facility for an independent Australian courier and express freight company. This facility will feature a 11,800 sqm warehouse, as well as an 830 sqm double story office, complete with EOT facilities and lift. The total site area is 27,403 sqm and includes 8,660 sqm of heavy-duty paving, more than enough to support the 23 truck docks, including recess and hard docks.
Once complete, the facility will be 5 Star Green Star certified, with the Green Building Council of Australia certifying the facility as 'Australian Excellent'. Features of the 5 Star Build include a vertical green wall with a rainwater irrigation system, as well as the use of 99 kw solar panels for electricity. Once complete, this facility will be the 3rd 5 Star Green Star certified built by CIP in the past year, reiterating CIP's commitment to sustainable building practices.
CIP Construction's Project Manager, Luke Santilli has stated 'We are looking forward to working together with LOGOS on what will surely become Melbourne's newest industrial investment hub. CIP are mobilising on site and progressing well, with PC anticipated in October 2021.'
This is CIP's first occasion working with LOGOS Group, who's APAC portfolio comprises 100+ logistics estates, with an AUM of approximately $13.8 billion.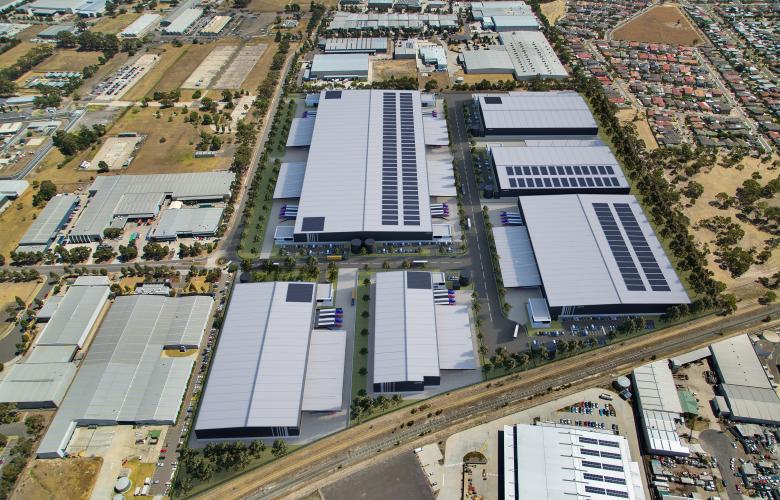 L-R: Joseph Haweil, Hume City Mayor
Mark Hendry, CEO, CIP Constructions
Darren Searle, Head of Australia and New Zealand, LOGOS Group
Find more of our projects, including updates on those currently in progress on our Project page.